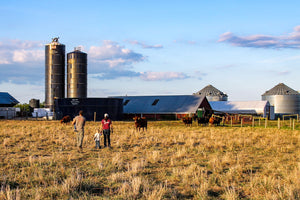 SICKLER'S CIRCLE VIEW FARM
FARM RAISED MEATS FROM OUR FAMILY TO YOURS
A LITTLE ABOUT US
Thanks for stopping by!
We are David and Rachel Sickler of Sickler's Circle View Farm located in Monroeville, New Jersey. A farmer and a nurse respectively, we raise commercial and registered cattle, hogs, row crops, and laying hens. We sell our USDA certified meats to the community through our on-site farm store.
Whether you're here to learn about our meat sales, or to get a taste of farm life in Southern New Jersey, we are thankful you took the time to visit. Each and every day we are grateful for the blessing of farm life and for your part in our journey of living out our childhood dreams. Click the link below to read more about our history and our meats.
Why Sickler's Circle View?
We believe the end product of selling the finest meats starts in the health of our soils, our crops, and in turn, the environment the animals live in. We are continuously building field infrastructure to incorporate our livestock grazing as part of our crop rotation.
Every nutrient our animals consume comes from our land, including their grain. We mix our own grain for our cattle, hogs, and laying hens. You can have confidence knowing not only is your food raised responsibly, but your food's food is as well!
We work alongside local environmental agencies to ensure our part in regenerating the land and to ensure our practices are respectful of the environment.
We are a small family farm that diligently cares for each of our animals together as a family, day in and day out.
We believe in 100% transparency in our operation. Follow along on our social media platforms to see more!
All of our meats are processed at a USDA certified processor and transported and stored in compliance with the Salem County Department of Health.
We are committed to providing our customers with the finest quality meats from animals we raise as a family on our farm. We know quality matters, and have carefully selected processors who also believe as we do, that there simply are no short cuts.
We understand the desire to trust the food you are putting on the table for your family is from happy and healthy animals. You can have confidence in knowing the meat you purchase from our farm is from animals who have received an exceptional level of care every day of their life from a family willing to take the extra steps to ensure the highest level of comfort for their livestock.
You can purchase by the cut, by the bundle, or large share through our website for pick up on our farm. We hope you will give us a try so you too can appreciate the difference in knowing your farmer.
Come Shop with us
Our Farm Store
450 Bridgeton Pike
Monroeville, NJ 08343
Wednesday through Friday- 11:00AM - 5:00PM
Saturday- 9:00AM - 4:00PM
Sundays- 10:00AM - 4:00PM
★★★★★

Above all is taste.  How the meal tastes. But to get there you have to care, work, partner and always be curious. The best bone in Ribeye Steak I have ever prepared and ate came from Sicker's Circle View Farm
because they put in the care, work, partnerships and curiosity.  Every item I have purchased in the past months has had the best preparation, presentation and taste, including: Ribeye, Bacon, Spare and Baby Back Ribs, Guanciale, Sirloin Tip Steak, Sausage, Marrow Bones and Shiitake Mushrooms. Every visit to their farm is a warm visit with neighbors and how much they care is on display. They partner with an excellent butcher who cuts the Guanciale to perfect slices to make lardons for
Carbonara and a farm that grows the most flavorful Shiitake Mushrooms. Rachel and David work with the land and their animals to produce exceptional eggs, beef and pork. Buy
local, shop small business and always remember to thank a farmer. You will taste how much they care.

Marlo P.

Mullica Hill, NJ
★★★★★

I have loved every product that I have received from Sickler's Circle View Farm! It started with a few pork chops in our CSA box, and now I can't wait for my next trip to their farm store. The pork is flavorful and moist, the beef is absolutely delicious, and you can tell that they truly care about each and every product they sell. The store is full of wonderful cuts of meat that I can't wait to cook for my family!

Liz L.

Merchantville, NJ
★★★★★

I stumbled across Sickler's Circle View Farm thanks to a great tip from my brother-in-law. My wife and I decided that we wanted to have more control over the food we eat and feed to our family and Sickler's Circle View Farm gave us the perfect chance to do so. I have lived in NJ all my life and never bought meat outside of the supermarket before nor heard of a farm that sold meat until now. I met Rachel and her family the first day we went into the shop and felt like we were friends from the start. I started with a couple of steaks and man I was not disappointed. You can see immediately when the steaks were opened that they looked different than store bought steaks. The color and marbling immediately made my mouth water. ONce the steaks were done and I put that first bite in my mouth I knew I was never going back to store bought meat again and placed an order for a 1/8 share of beef. You will not be disappointed in the quality and detail that Rachel and her family strive for, and it shows!! Take the trip and check them out. Oh, and don't forget some eggs while you are there also, they are delicious.

Jason C.

Glassboro, NJ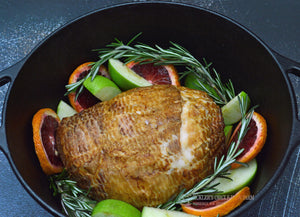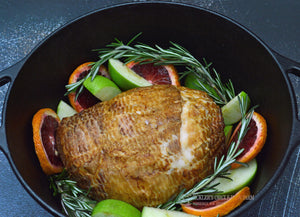 Our Farm Raised Meats Shipped Right To Your Door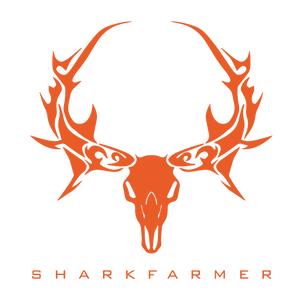 Interview with Shark Farmer Radio

Farm Tour with Dr. Smoke, Green Mountain Grills